The Boutique: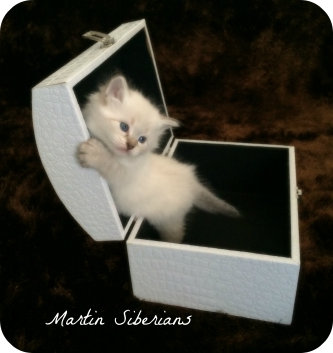 Chats et chatons Sibériens Hypoallergiques de la Chatterie Martin Siberians
We offer for sale some products that we use regularly at the Cattery and to which our kittens are accustomed as well as some items that our cats love. All these items are new and are offered at a good price.
Grooming:

In addition to a standard brush, it is really important to remove a maximum of hair with a brush of this type.

The grooming tool par excellence for the cat is for me the FURMINATOR. It is a comb that removes free hair, which reduces moulting, which helps to reduce hairballs.

In short, a tool that I can not do without!

It is sold at Pet Shop Mondou at $ 47.99 plus taxes for a total of $ 55.17

I buy it from a wholesaler in the box of 12 and I can sell you one at the wholesale price of $ 50. taxes included (subject to availability)
Notify me in advance if you want one since they leave quickly ...
Magic-Fur Cube: The Original LZ-091

Finally, a product that works perfectly.
This cube made of plastic and covered with rubber is wonderful.

It is used to remove hair on fabrics, furniture, curtains, sheets, carpets, blankets, cat tree, etc. I even know breeders who pass it directly on the hair of their cats.

Works beautifully and removes hair every time.

Sold directly on the website www.magic-fur.com

I buy it at the price of the wholesaler and even my first block bought for 3 years now, works as well as the first day. I keep one on each floor of the house, the cottage, and one in the car!

I can sell you for $ 24. taxes included (subject to availability)

Notify me in advance if you want because at this price, they leave quickly ...

* Take care, copies exist but copies do not work as well as the original
The embossed balls:

"Because the best games are often the simplest, this ball is ideal for stimulating the body and mind of your cat. Watch him hunt, jump and play with his ball. The sound it emits increases the level of engagement of your cat, to keep him busy for hours. '' -text taken at Pet Shop Mondou

Available at $ 2.30 each incl. at Pet Shop Mondou
I offer them $ 10. tx incl. for 7 balls
or $ 20. taxes included for 18 balls

or $ 40. taxes included for 42 balls

I buy them in crates of 244 bullets since cats love it. With 7 balls, you will do about a month. The ideal is at least 18 balls and if you prefer to have for a good time, go with 42 balls ...

Hours of pleasure in perspective!
The fish:


I discovered that they were particularly fond of fish filled with catnip ... the smell of catnip gives them energy and they love it ... good quality, very realistic design . I buy it at the crate wholesaler of 144 units, I can sell you
a fish for $ 9.00
2 differents models for $ 15. taxes included
4 differents models for $25. taxes included
Measure about 6cm X 18cm
There are several toys or games on the market. Kittens love balls, mice, tunnels, etc. Diversify from time to time by removing and releasing the toys for a novelty impression.

Above all, your cat likes you to play with him. They need quality time with you!
Pet Bed:

Whether it's a blanket, a cushion, a cardboard box, the kitten will love having a cozy place. The pet shops offer a variety of different cushions. We use in Cattery a model in the form of banana. The oblong design rather than a square or round design seems very popular. I use it regularly for photo taking since kittens feel comfortable.
I buy it from a wholesaler in the box of 12 and I can sell you one at a wholesale price of $ 35. taxes included (subject to availability)
Notify me in advance if you want one since they leave quickly ...
And for those who know that we only use high quality items, you will not be surprised to learn that we now have, in addition to the banana-shaped cushions, the beautiful boat-shaped cushion (there are three times bigger than the banana-shaped cushion) .... WOW ..... really a super padded cushion so super comfortable. Luxury and incomparable quality !!! Really original and decorative. A favorite at first sight.

I bought it from a wholesaler in the case of 12 and I can sell you one at the wholesale price of $ 80. taxes included (subject to availability) ... Available for a really limited time since there are only a few .... I kept the others;)
Nail Caps:

Claw protectors are ideal for covering cat's claws to protect against scratches and protect floors and furniture

They are fixed with a non-toxic glue and are easy to apply.

offered in some pet stores and in grooming salons, you can also apply them yourself in the comfort of your home.

I particularly like this brand because they offer double glue tubes with applicator tips than all others and it is often convenient because the glue dries and is rarely reusable. This brand can not be found in pet shops because this product is offered exclusively for pensions and breeders.

* available for kittens up to 5 lbs in glitter version according to availability in pack of 40 Nail caps so enough for 4 applications if you apply them only on the front legs and 2 applications if you do the 4 paws
We use Magic-Fur products. These are very effective products and I have tried several brands but these are fabulous and available only for breeders, pet stores, pet pensions so the ideal opportunity to get them because they are not available to individuals in store. No expiry date so are good for an eternity ...

How to clean the litter of the cat? All cats go in their litters. Pests can lodge, it is mandatory to regularly clean and disinfect the litter box.
Cats are very clean animals, so it's important to keep litter clean. A cat's sense of smell is 14 times stronger than ours, so smelly litter can get your cat to look for another place to eat.

Never use vinegar or products containing ammonia or lemon ... these smells will scare your cat and he could go to his needs elsewhere. Do not use bleach when cleaning cat urine. When ammonia from cat urine and bleach is mixed, it creates vapors powerful enough for the person to faint. Especially if you are in a small enclosed space like a bathroom.
The combination of a small amount of cat urine and bleach could cause an asthma attack. Some people are more sensitive than others.

How do I clean the tray? You must discard the litter completely. Do not throw dirty litter in the toilet, but in a garbage bag. Clean the inside and outside pan under the hot water jets and clean with Magic-Fur Cleaner using a brush to clean the litter box, rinse thoroughly and wipe clean. a paper towel to dry completely. Once dry, generously spray Magic-Fur Disinfectant all over the surface to disinfect both inside and outside the tray, let stand a few minutes and dry well with a paper towel. Make sure everything is dry before putting a new litter back inside the bin.

** Tip and Tip: I like to add a thin layer of baking soda to the bottom of the tank before pouring the litter in order to avoid bad smells. This is a healthy and effective alternative to deodorant or scented products. Veterinarians do not recommend the use of scented or deodorant bedding as they can irritate the respiratory tract of some cats and create allergic reactions.
Products available in 500ml or 1 Liter format at Our Pet Store:

A 500 ml bottle of Cleanser or Disinfectant of your choice: $ 18. taxes included (probably enough in this bottle for 6 to 8 months of use)

500ml Cleansing Combo and 500ml Disinfectant: $ 30 taxes included (probably enough in these bottles for 6 to 8 months of use)

1L Cleaner Combo and 1L Disinfectant: $ 50. taxes included (probably enough for 12 to 16 months of use)
For everyone, but especially for people who are allergic to cats: If you are afraid to breathe in dust from the litter box and become infected with the toxoplasmosis virus, consider wearing a respirator to protect your lungs and disposable gloves.

Magic-Fur Cleansers and Disinfectants
Ideal, among other things, for cleaning the litter box
---CLICK HERE ---
Here is the list of necessary items to get for the well-being of your new kitten.

Available in Glitter Silver, Glittery Pink, Glittery Purple, Glittery Black or Glittery Blue

A pack of 40 same-colored nail caps, 4 tubes of glue and 4 precision applicator tips and a pamphlet of instructions: $ 20 taxes included
2 packs of 40 nail caps (2 different colors if desired): $ 36 taxes included
3 packs of 40 nail caps (3 different colors if desired): $ 51 taxes included