Hypoallergenic Siberian Cats and Kittens for sale from Martin Siberians Cattery

All our pet kittens will be sold altered, spayed/neutered except for our breeder /show quality kittens.
Kittens are fed with a high quality food!
We feel this food is a very good brand and should be kept on this food for at least one year!

Each kitten will come with the following:
-Registered with a Cat Association
-Microchipped
-Age appropriate basic vaccination and first deworming
-kitten food sample
-Kitten Toy and a baby blanket that they have used to help the transition (so it has the scent of Mom and sibling's)
-Sales agreement & Health Guarantee
-Life time support !
AVAILABLE KITTENS

We are currently accepting new reservations on our waiting list for kittens born in May and June 2018.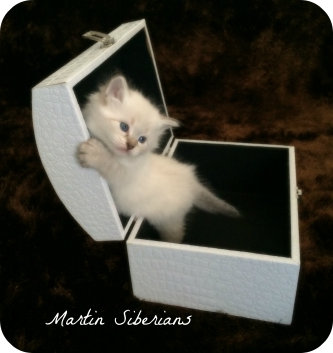 <script>
(function(i,s,o,g,r,a,m){i['GoogleAnalyticsObject']=r;i[r]=i[r]||function(){
(i[r].q=i[r].q||[]).push(arguments)},i[r].l=1*new Date();a=s.createElement(o),
m=s.getElementsByTagName(o)[0];a.async=1;a.src=g;m.parentNode.insertBefore(a,m)

})(window,document,'script','https://www.google-analytics.com/analytics.js','ga');

ga('create', 'UA-100515520-1', 'auto');
ga('send', 'pageview');

</script>