Hypoallergenic Siberian Cats and Kittens for sale from Martin Siberians Cattery
Kitten Application

We want our babies to get the best of homes. This is for our records only and your information will not be shared with anyone else.
Each kitten will come with the following:
-Registered with a Cat Association
-Microchipped
-Age appropriate basic vaccination and first deworming
-Food sample (if not traveling by air)
-Kitten Toy and a baby blanket that they have used to help the transition (so it has the scent of Mom and sibling's)
-Sales agreement & Health Guarantee
-Life time support !
What's included with your Martin Siberians Kitten
DO NOT COMPLETE THIS FORM IF YOU ARE NOT READY TO PURCHASE A KITTEN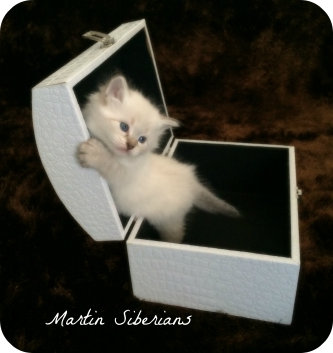 Contact Details
Name
Address
City
State/ Province
Postal code
Phone
E-mail
Country
Comments or Questions :
How many adult in your family ?

What work do you do (for each adult)?

How many childrens in your family and how old they are?
Does anyone have cat allergies and what are their symptoms?

Does anyone have dogs, rabbits or horses allergies ?
Do you accept our terms and conditions:
info@martinsiberians.com